Victoria Schwab
Published July 2016
Monsters of Verity #1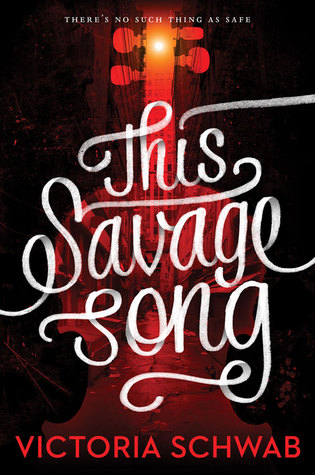 I was extremely excited to receive This Savage Song in the July OwlCrate box!  I had seen some really great reviews about the book already floating around on Goodreads, and thought this would be a perfect book to get me out of my book subscription box slump.  You see, I have a horrible pattern of opening up my book sub boxes, squealing and fangirling, taking pictures of my brand new shiny things, and then throwing the featured book in my endless TBR pile and not actually reading it.  Whoops.
So, I have decided to break the cycle.  I picked up This Savage Song last week (which is also my first Victoria Schwab book, forgive me!),  and other than a few minor things, I really enjoyed it!
I liked it even more when I discovered this is actually a duology, I have a weird and unexplainable soft spot for a two book series.
There's no such thing as safe in a city at war, a city overrun with monsters. 
Kate Harker and August Flynn are the heirs to a divided city—a city where the violence has begun to breed actual monsters. All Kate wants is to be as ruthless as her father, who lets the monsters roam free and makes the humans pay for his protection. All August wants is to be human, as good-hearted as his own father, to play a bigger role in protecting the innocent—but he's one of the monsters. One who can steal a soul with a simple strain of music. When the chance arises to keep an eye on Kate, who's just been kicked out of her sixth boarding school and returned home, August jumps at it. But Kate discovers August's secret, and after a failed assassination attempt the pair must flee for their lives.
There was really only one thing that I didn't like about this book, and that was that it took a little too long for information to be revealed.  The beginning was confusing for me to follow along and keep everything straight: not because of the usual 'beginning a new series' info dump, but rather the lack of details on WHY things were the way that they were.
But with that being said, once I finished about 30% of the book, things started to happen.  The pacing of this novel is perfect, which is why i continued to read even though i was frustrated with not knowing the background to this new monster infested world.  I am not saying TSS was non-stop action, instead it was just a story of constant motion.  The characters were always moving, always doing something, there were not many dialogue scenes, nor internal debates occurring.
Speaking of characters, I loved the two 'protagonists'.  I loved that they were neither black nor white, that their morals and values skewed, that as readers we weren't supposed to lean clearly to one side or the other when connecting to them.  Both August and Kate were mature enough to view the screwed up world that they lived in rationally, which is rare in
YA novels.  And most of all, I absolutely loved the lack of romance.  I think it would have been out-of-place and ruined the gritty vibe of the story, so thank you for that Schwab!
She certainly seems to be a master storyteller, the plot unfolded perfectly, with both likeable and despicable characters, and an ending that left me both satisfied, yet wanting more.  The second book in this series already has a name: Our Dark Duet.  It is absolutely PERFECT, IT'S SO FITTING I CAN'T EVEN.  I am very excited to see what happens in the finale.
★★★★